0-60Mpa Hydraulic Pressure Gauge Test Kit With Portable Case Digital Manometer Measurement Instruments for Excavators Use
Max Measuring Range: 

200 PSI & Above

Pressure gauge 1: 

Diameter 63 mm-25 MPa(25 MPA/250 Kg/c㎡) QTY: 1PC

Pressure gauge 2: 

Diameter 63 mm-40 MPa(40 MPA/400 Kg/c㎡) QTY: 1PC

Pressure gauge 3: 

Diameter 63 mm-60 MPa(60 MPA/600 Kg/c㎡) QTY: 1PC

Test hose: 

Length=1.5 m QTY: 3PC
Product Description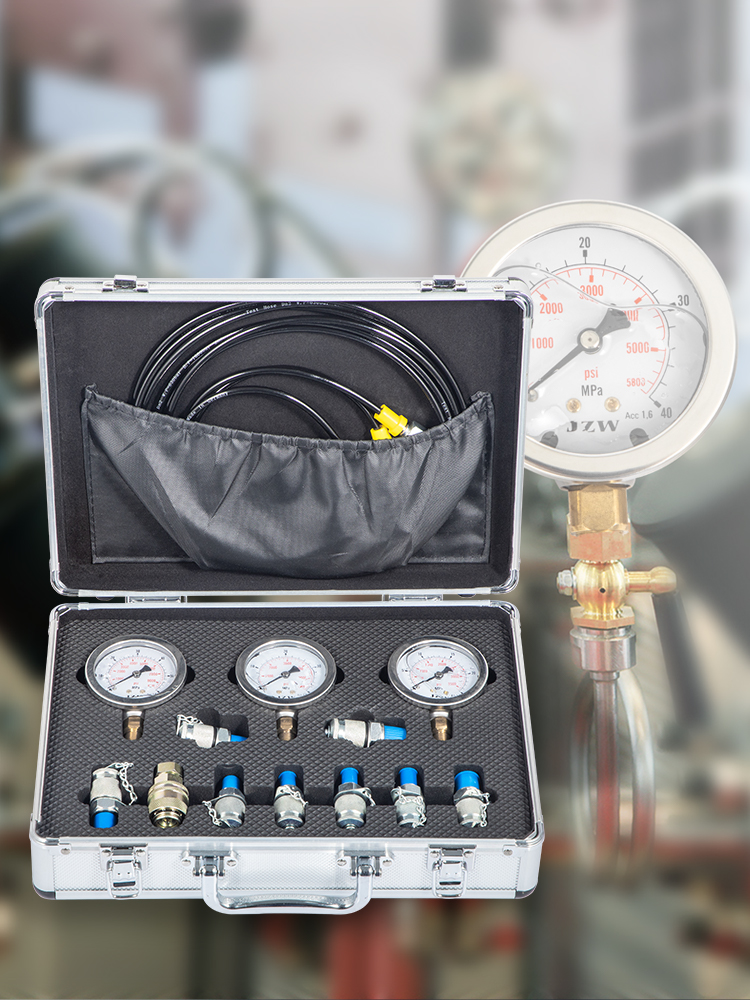 Hydraulic Pressure Test Kit
Our straight hydraulic pressure testing set includes three pressure gauges, and three connect tubes, eight couplings. It provides you reliable pressure measuring results. It features a compact structure, high pressure, and impact resistance.
Accurate Pressure Gauge
Interchangeable Test Couplings
Durable Materials
Portable Case & 5.25′ Test Hose
Why Choose toolshedshoponline?
Premium Tough Quality
Incredibly Low Prices
Fast & Secure Delivery
24/7 Attentive Service
Key Features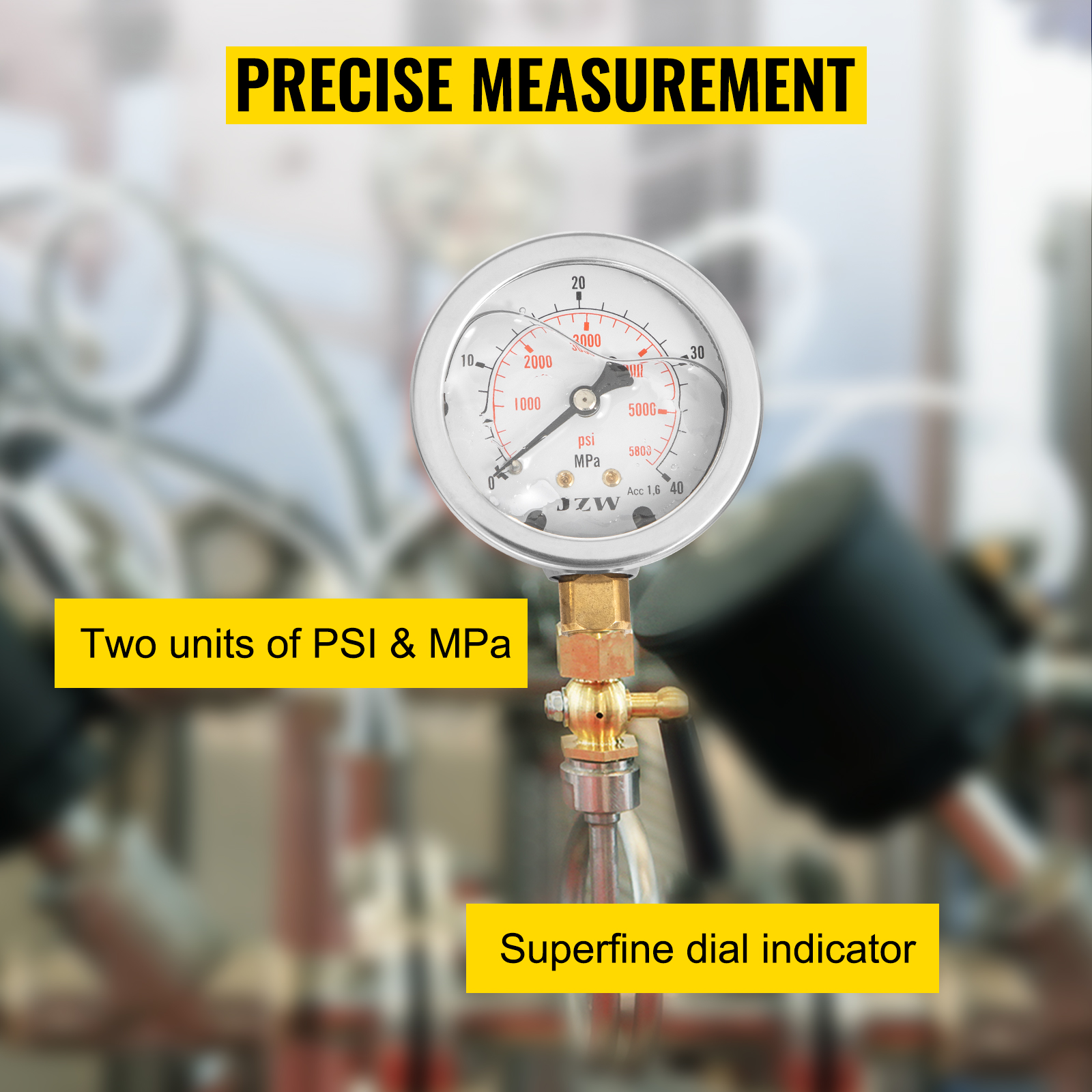 Precise Measurement
Differing in working pressures of 25/40/60MPa, the three hydraulic test gauges achieve precise measurement with superfine dial indicators and clear scales.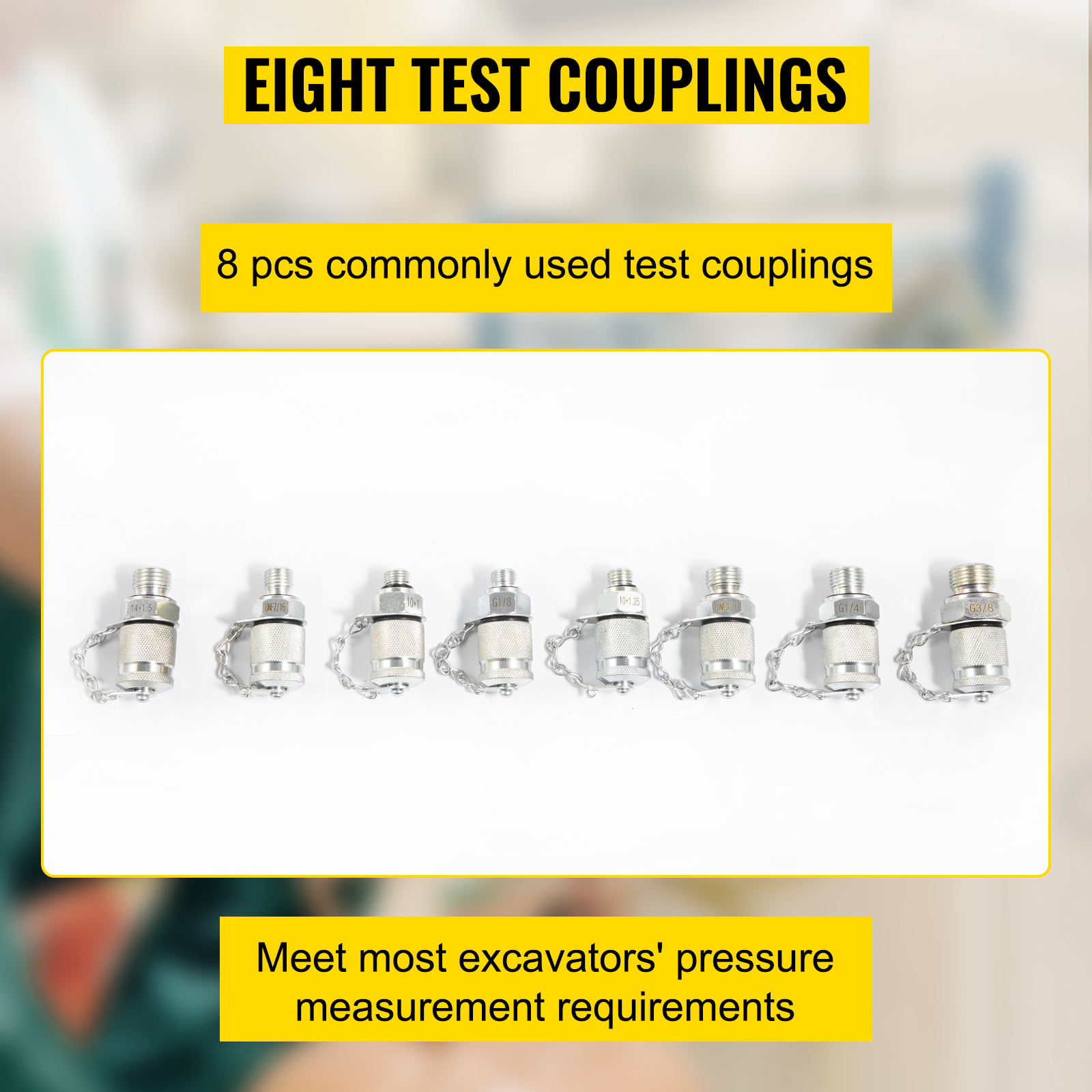 Eight Test Couplings
This pressure gauge kit has eight test couplings of different models, which meet most excavators' pressure measurement requirements.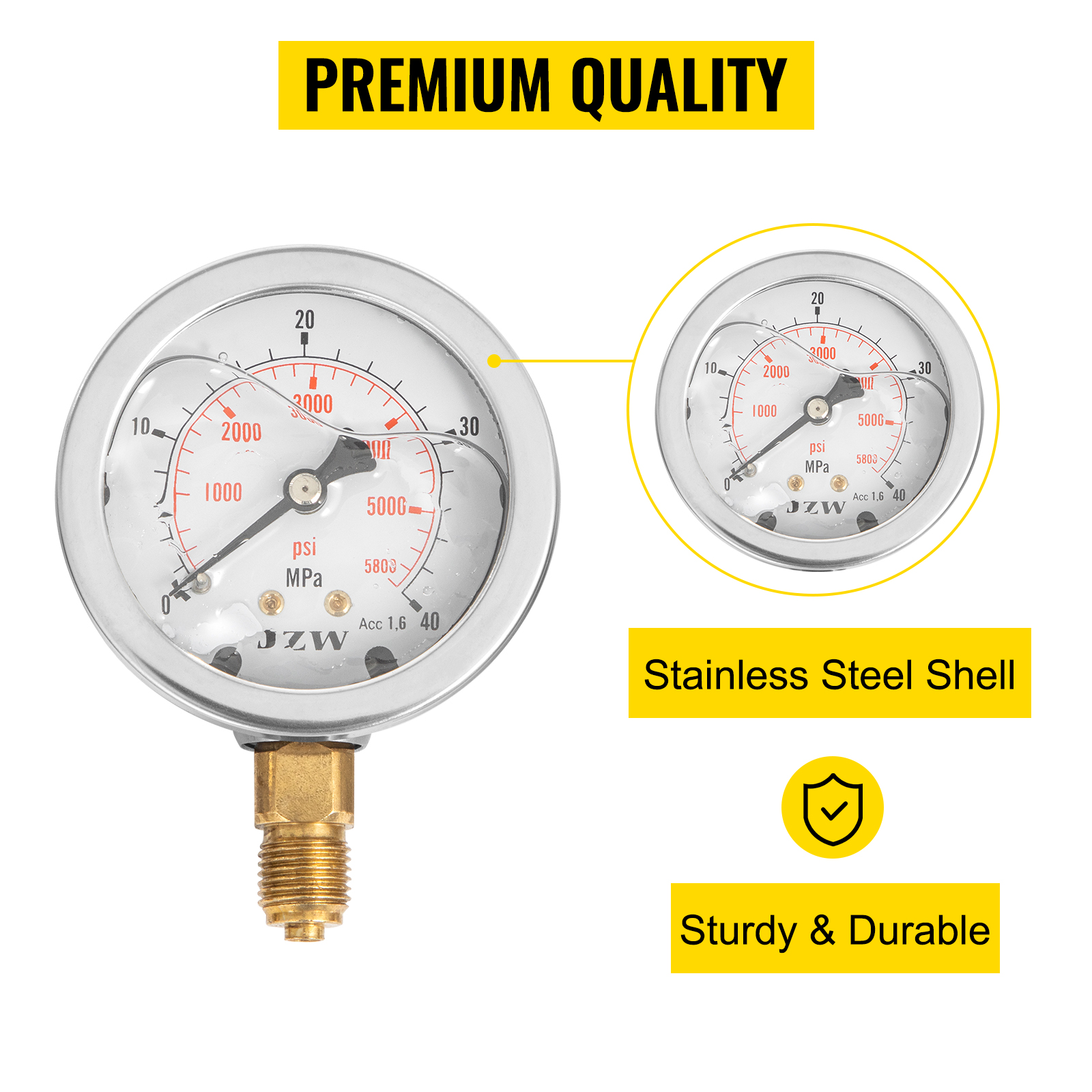 Premium Quality
The hydraulic gauges are constructed with 304 stainless steel and red copper. The couplings are made of carbon steel, making the device sturdy and durable to have a long service life.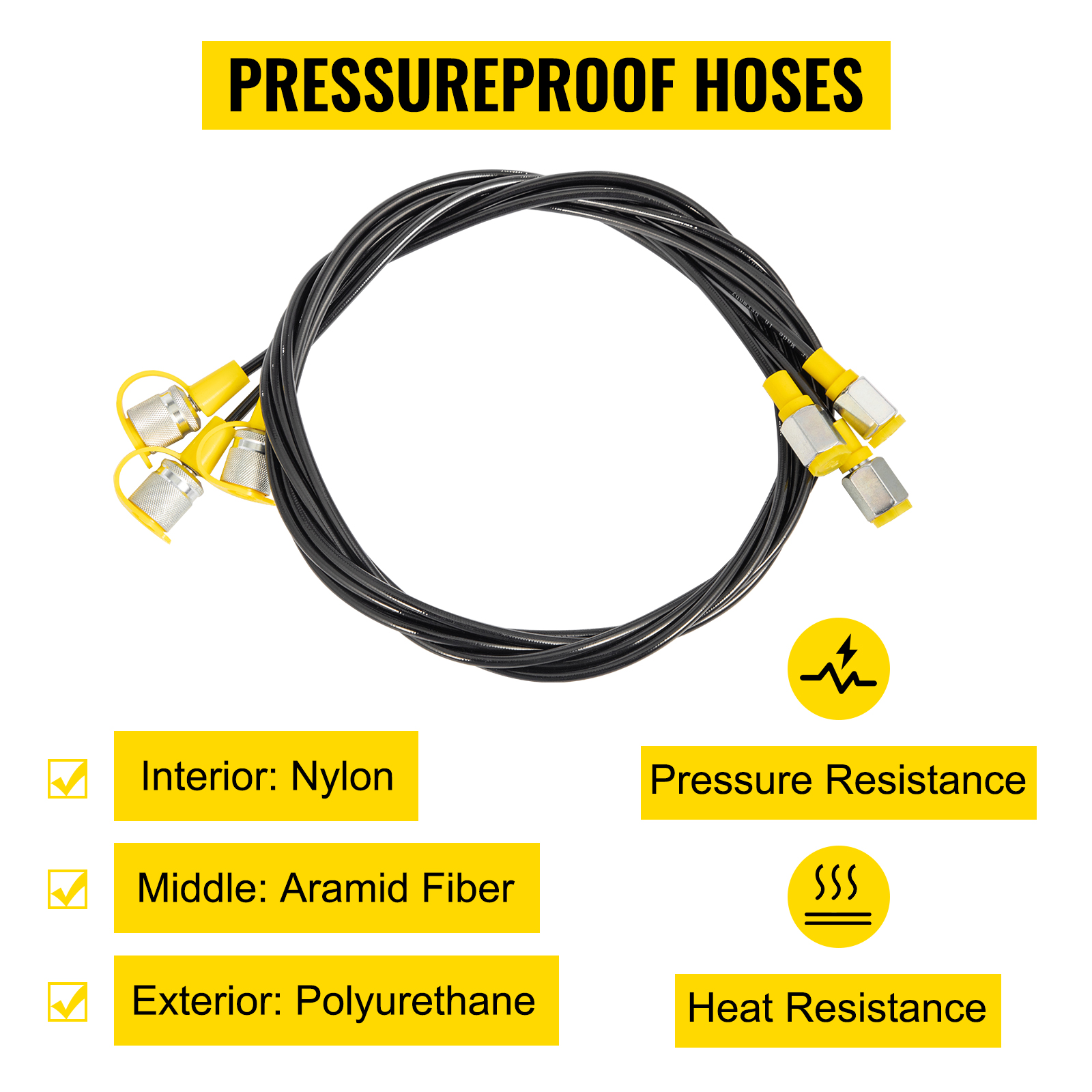 Pressure Proof Hoses
The test hoses have the characteristics of resistance to heat and pressure with premium material and particular structure. In addition, 5.25FT/1.6M long hoses allow you to work from a long distance.
Sturdy Storage Case
The hydraulic kit comes with a robust plastic case. Its card slots design and compact size ensure neat storage and portable use.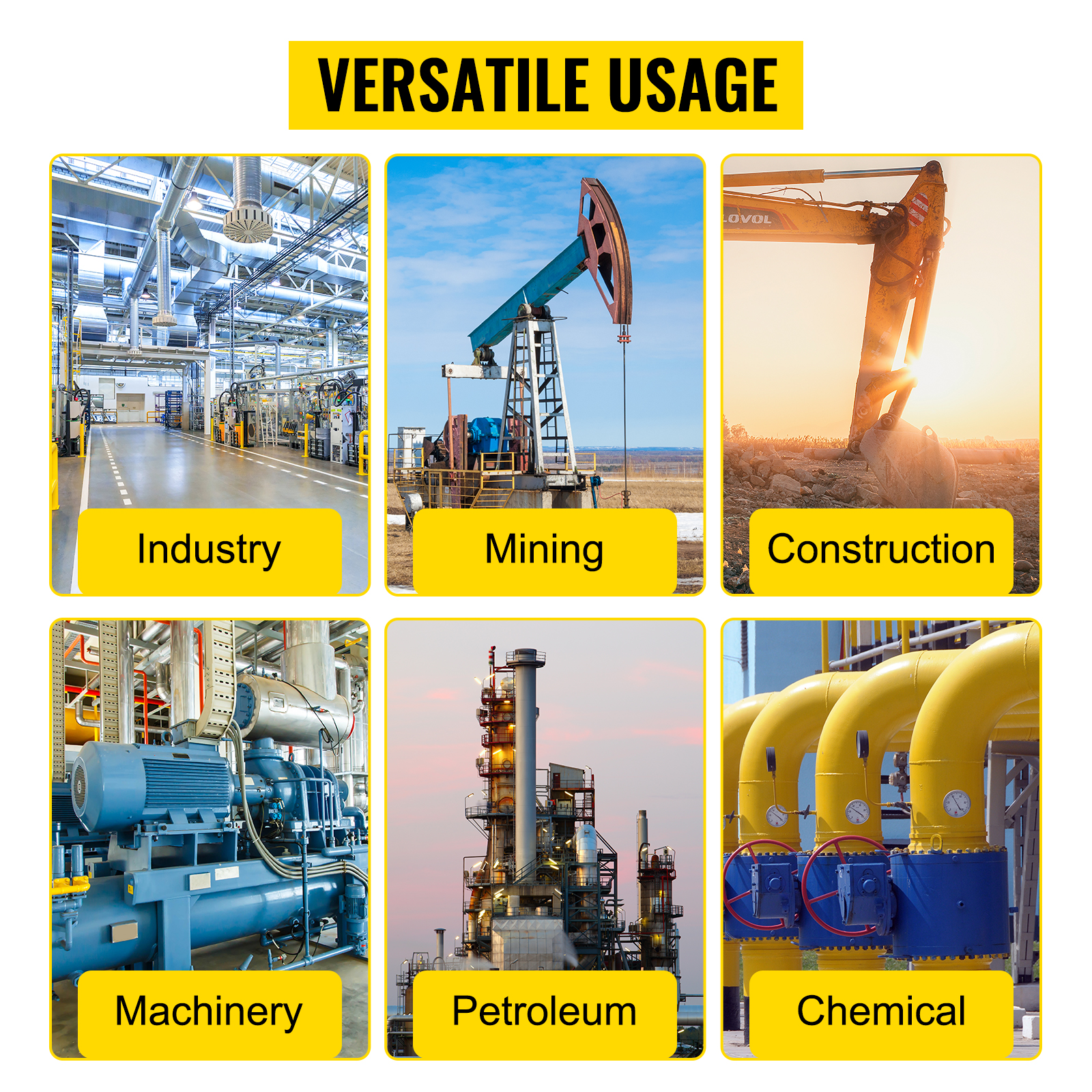 Versatile Usage
The hydraulic gauge test kit is suitable for most excavators and machines on the market. It is widely used in construction, machinery, shipping, mining, petroleum, chemical industry, etc.
Specifications
Pressure Gauge 1: φ60 mm-3500PSI/25MPa
Pressure Gauge 2: φ60 mm-5800PSI/40MPa
Pressure Gauge 3: φ60 mm-8600PSI/60MPa
Test hose: Length=1.6 M / 63″ QTY: 3PC
Test coupling: G1/8 QTY: 1PC
Test coupling: G1/4 QTY: 1PC
Test coupling: G3/8 QTY: 1PC
Test coupling: M10/1 QTY: 1PC
Test coupling: M10/1.25 QTY: 1PC
Test coupling: M14/1.5 QTY: 1PC
Test coupling: UNF7/16-20 QTY: 1PC
Test coupling: UNF9/16-18 QTY: 1PC
Quick connector -(for Caterpillar CAT) QTY: 1PC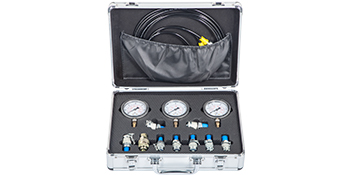 1 Set Excavator Hydraulic Pressure Test Kit
Features & Details
Accurate Pressure Gauge: The hydraulic gauge kit has three pressure gauges of different ranges: 0-3500PSI/25MPa, 0-5800PSI/40MPa, 0-8600PSI/60MPa. With two units and precise graduations, the meters are accurate in measuring pressure.
Interchangeable Test Couplings: Eight interchangeable test couplings are included in this excavator hydraulic pressure test kit, with the sizes of G1/8, G1/4, G3/8, M10/1, M10/1.25, M14/1.5, UNF7/16-20, and UNF9/16-18, which are suitable for many kinds of standard excavators.
Durable Materials: This hydraulic gauge test kit contains corrosion resistance gauges and carbon steel couplings with high strength. The working oil filled in the meters effectively avoids vibration and pulsation.
Portable Case & 5.25′ Test Hose: All parts of the hydraulic pressure test gauge are neatly stored and tightly placed in a thickened plastic toolbox. The compact design makes it save storage space and easy to carry. In addition, three test hoses help extend the pressure test gauge to the inside of the machine for easy reading.
Wide Application: This excavator hydraulic pressure gauge comfortably fits for pumps, compressors, hydraulic presses, pneumatic equipment, and motors of various excavators. It is widely applied in construction, shipping, etc.