Cable Protector Ramp Wire Cable Cover Cord Guard 2 Channels Rubber + PVC 11000LBS Speed Bump Parking Lots Driveway Traffic
| | |
| --- | --- |
| Ships From | United States |
| Color | 3PCS, 4PCS, 5pcs |
Channel: 

2

Color: 

Black + Yellow

Material: 

Rubber + PVC

Weight Capacity: 

11,000 lbs/ 4,989 kg

Amount:

 3PCS, 4PCS, 5PCS

Product: 

Cable Protector Ramp

Feature: 

Speed Bump
Product Description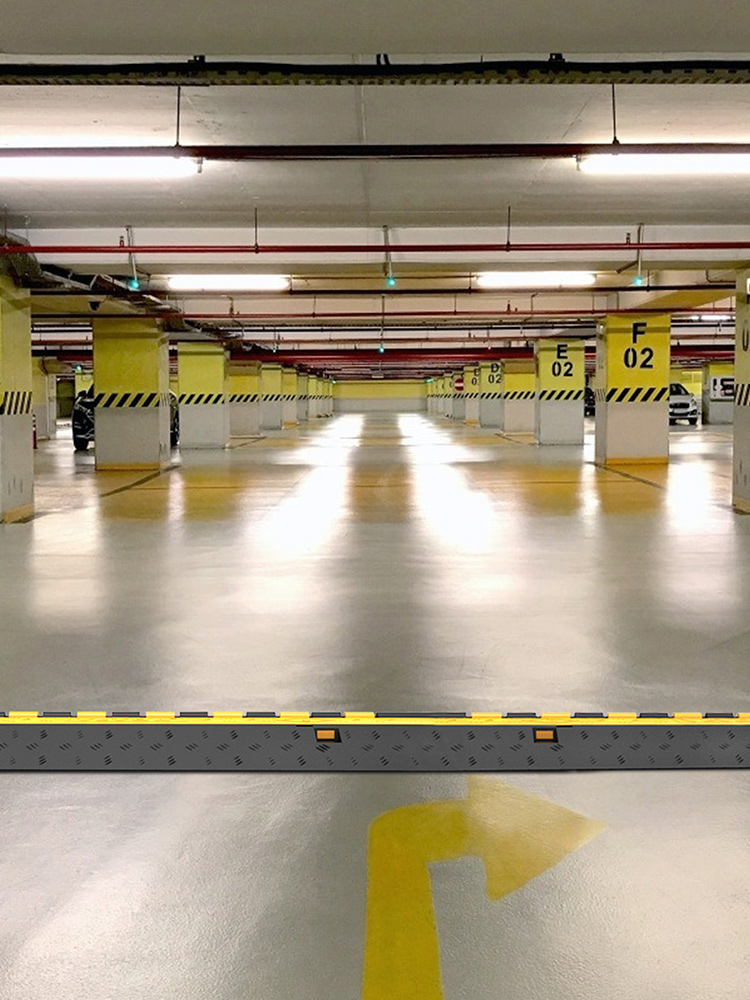 2 Channels Cable Protector Ramp
Rubber & PVC Cover & Modular Interlock ConnectionThis cable ramp is designed to control traffic speed and provide enough room for road cables while not causing damage to cars or roads. It adopts high-quality rubber construction, PVC cover for long-term service, 11,000lbs load capacity, and is secure on use at night.
3/4/5PCS 2 Channels
Max. 11000 lbs Capacity
Premium Slip-proof Rubber
Modular Interlocking Connection
Why Choose toolshedshoponline?
Premium Tough Quality
Incredibly Low Prices
Fast & Secure Delivery
24/7 Attentive Service
Key Features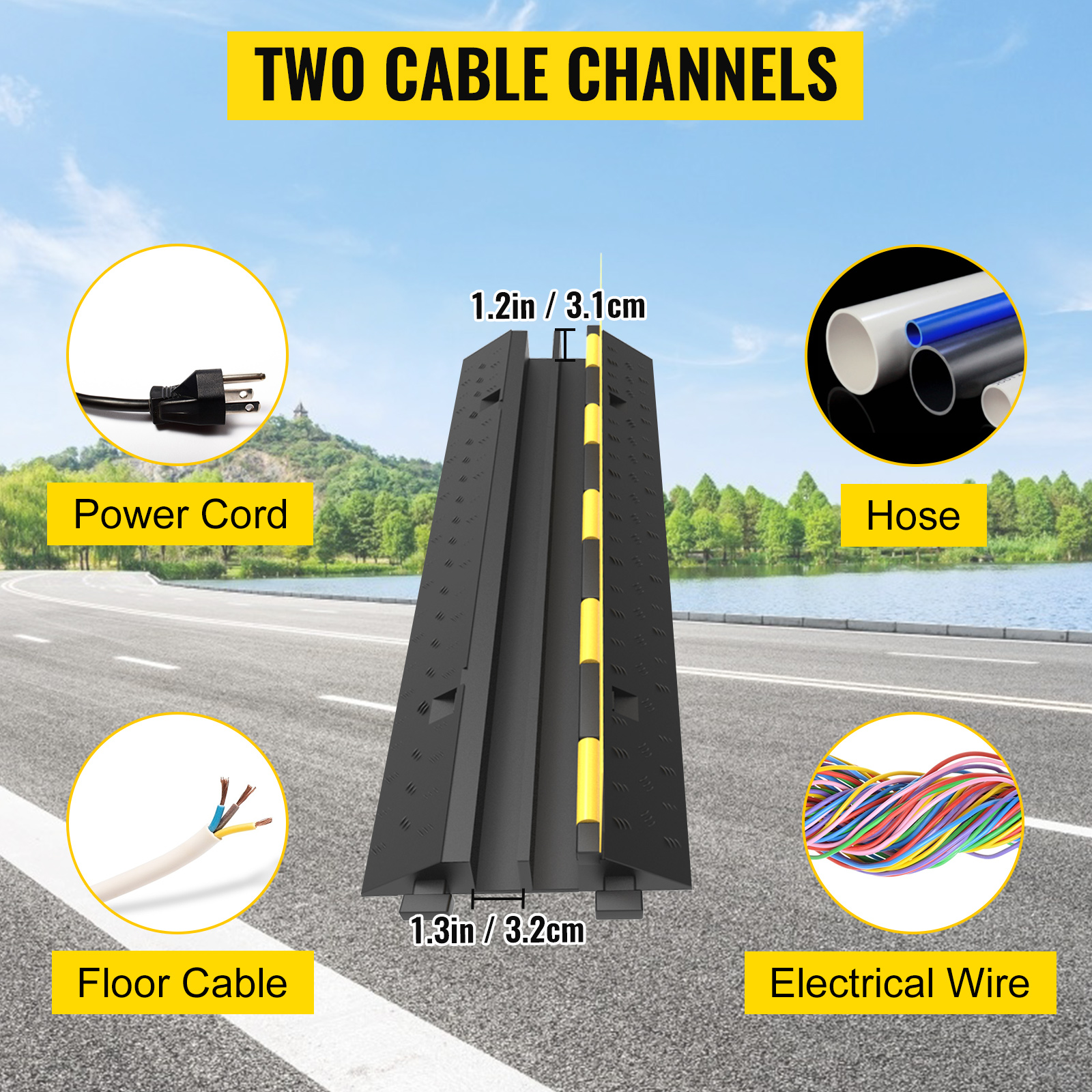 2 Cable Channels
Dual 1.3″ W x 1.2″ H/ 3.2 x 3.1 cm channels rubber driveway bump can provide enough room for electrical wire, power line, hose & network cables extension cord.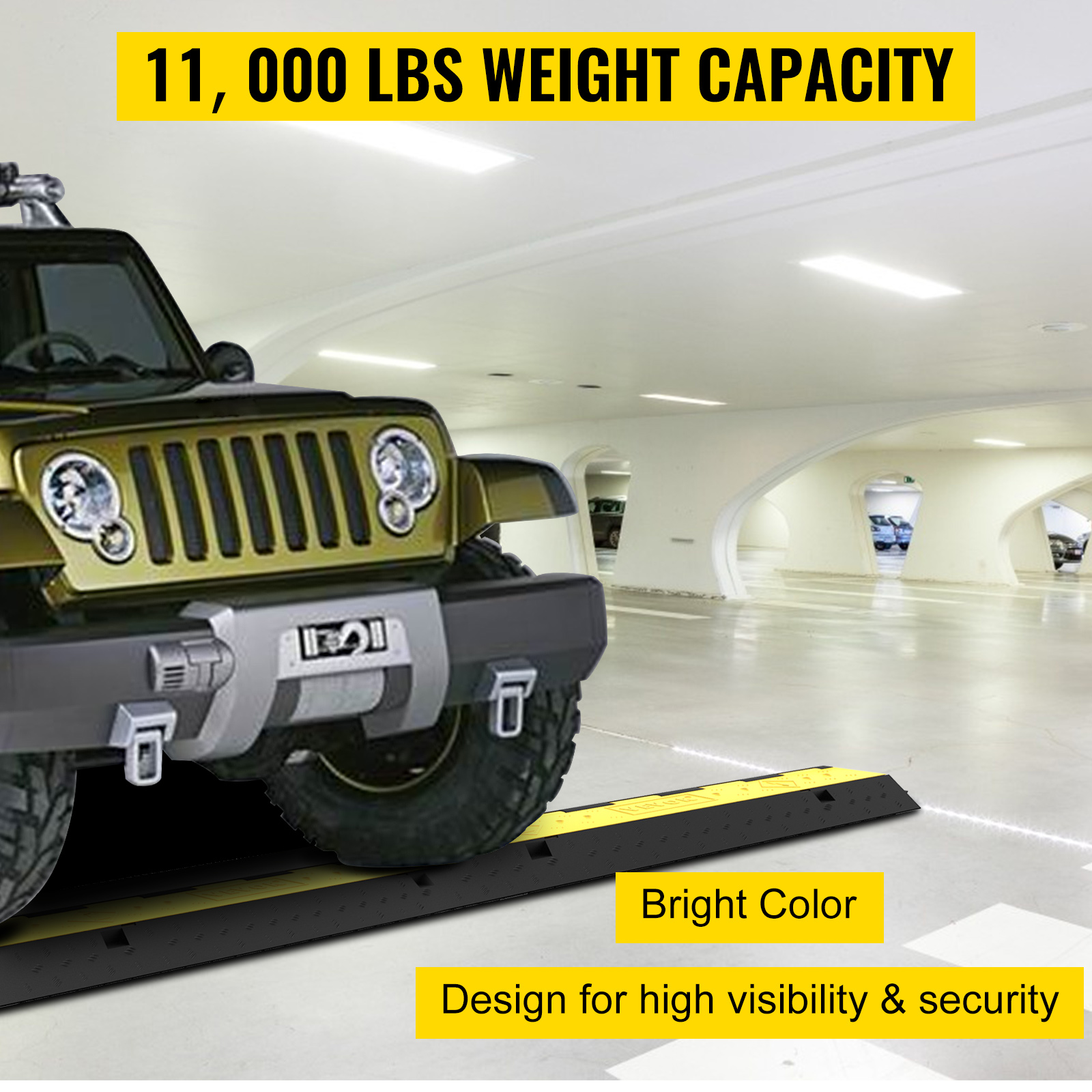 11, 000 LBS Weight Limit
The heavy and specialized craftsmanship that goes into the manufacture of these cable protectors facilitates that they can hold up to 11,000 lbs load capacity for all cars to pass securely.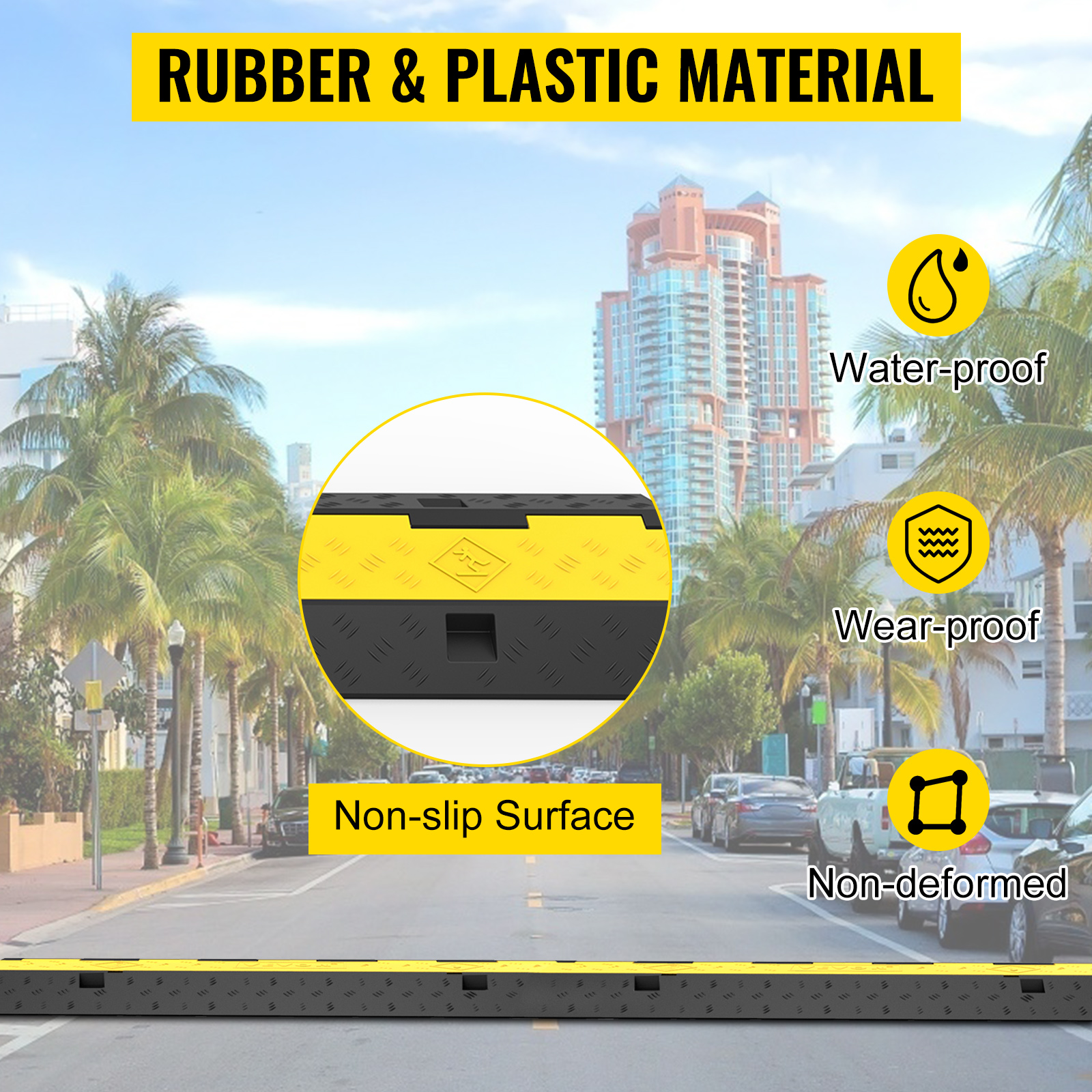 Rubber & PVC Cover
This rubber driveway bump is constructed with commercial-grade thermoplastic rubber. PVC cover is designed with skid-proof textures on the surface to provide security for car drivers.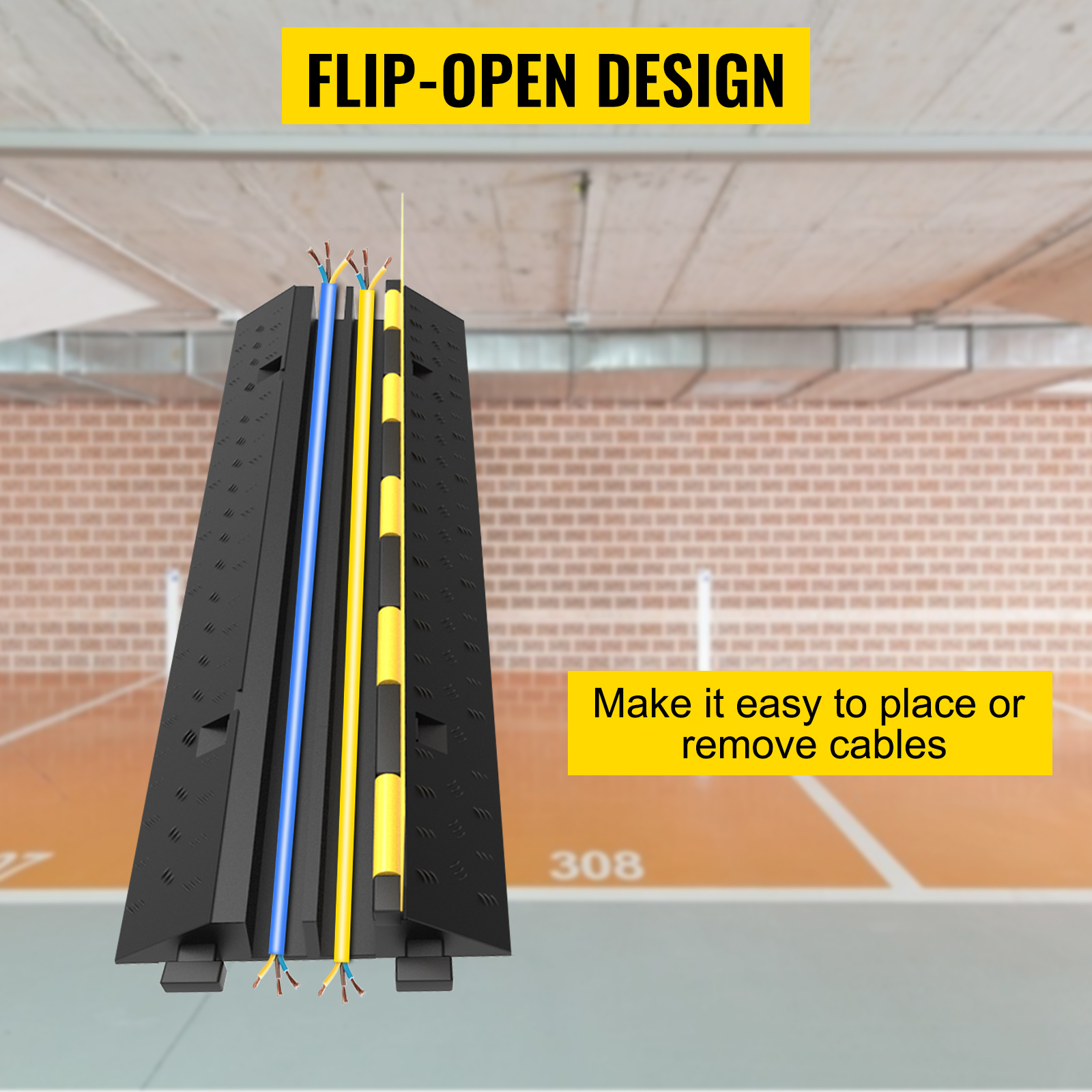 Flip-Open Design
The cable protector ramp with a flip-open cover allows you total flexibility to locate and fix any loose cable regardless of direction. Simply "snap" open and push in.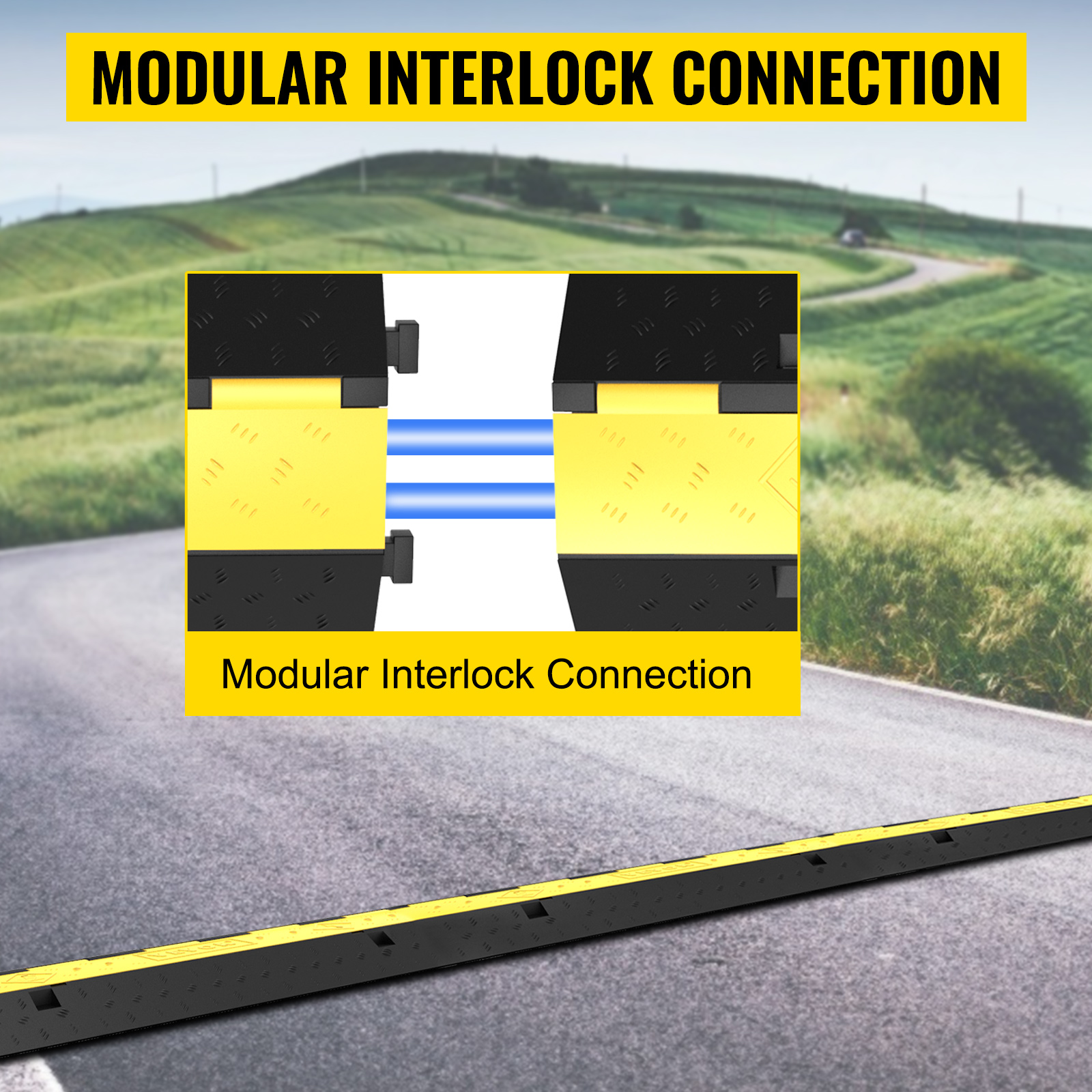 Modular Interlock Connection
Our nap fit cable protectors are fit for carrying more than one cable or wiring component, avoid accidents, secure the cables, and so much more.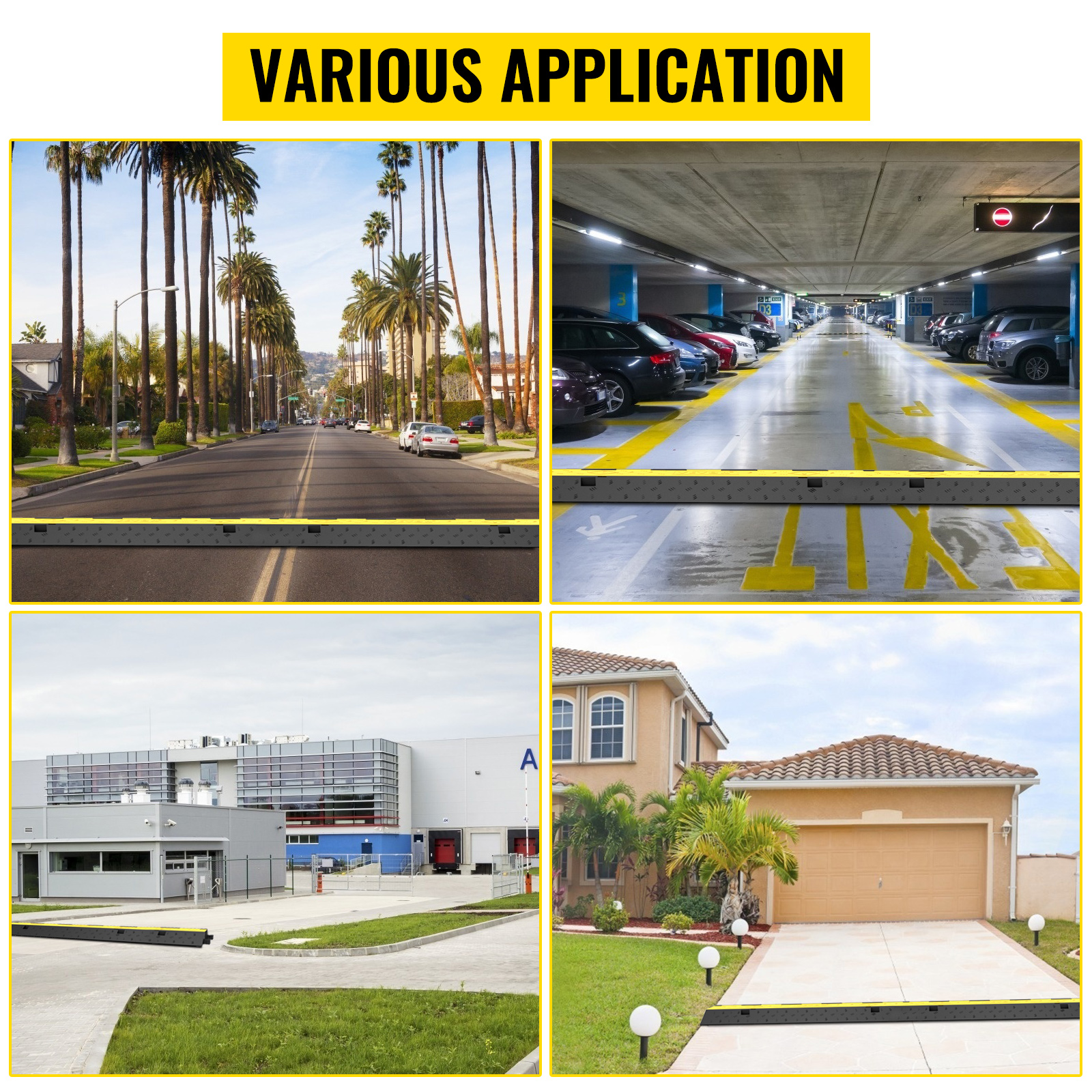 Versatile Application
Particularly suitable in public places like playgrounds, venues, sporting events, exhibition halls, retail premises, squares, temporary emergency applications, and home and office usage.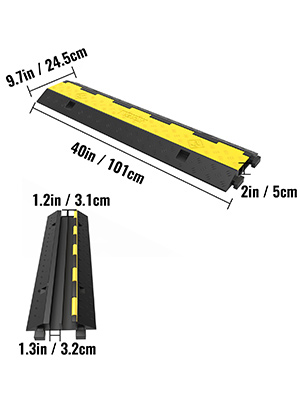 3 PCS / 4PCS / 5PCS Cable Protector Ramps
Amount: 3PCS/4PCS/5PCS
Channel: 2
Color: Black + Yellow
Material: Rubber + PVC
Weight Capacity: 11,000 lbs/ 4,989 kg
Product Size: 40" L x 9.7″ W x 2″ H/ 101 x 24.5 x 5 cm
Single Channel Size: 1.3″ W x 1.2″ H/ 3.2 x 3.1 cm
Item Weight(Each): 11.02 lbs/ 5 kg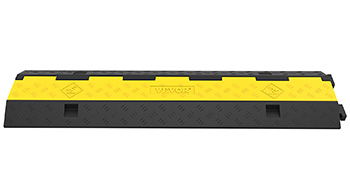 Package Content
3/4/5 x Cable Protector Ramps
Features & Details
【3/4/5PCS 2 Channels】: Product size: 40" L x 9.7″ W x 2″ H/ 101 x 24.5 x 5 cm; Single channel size:1.3″ W x 1.2″ H/ 3.2 x 3.1 cm; 2 channels cables protector keeps various wires from getting damaged by foot traffic and vehicles. What's more, the speed bump is ideal for slowing down the speed of cars to create a secure driving environment for roads, parking lots, and more.
【Max. 11000 lbs Capacity】: Traditional black+yellow color provides greater visibility at night and in low light environments. The cable protector ramp incorporates a unique design in its appearance to capture the attention of passer-by and drivers to slow off. 11,000Lbs load capacity ensures that you can drive your car over the ramp without affecting the cables running inside.
【Premium Slip-proof Rubber】: Our cable protector cover is constructed with industrial-level rubber and a PVC cover, water-proof, wear-proof, and non-deformed for long-lasting usage. Flip-open design allowing you to place or remove cables quickly and easily. Texture strips on the surface for vehicles to pass without sliding; Bottom shock absorption has strong stability to control traffic speed while not damaging cars or roads.
【Modular Interlocking Connection】: Modular design allows multiple speed bumps to be connected to cover the longer cords. With the design, you can effortlessly assemble it on the floor of your house or even outdoors. In addition, this feature offers you a do-it-yourself vibe as you can either have a specialist connect the product for you or achieve a sense of self-pride and go at it yourself.
【Versatile Application】: The cable ramp is perfect for indoor and outdoor, commercial and domestic, such as parking lots, warehouses, concerts, hotels, stages, shopping malls, sports events, schools, communities, and construction places.