VEVOR Portable Benchtop Table Saw 350W Multifunctional Electric Mini Wood Cutting Polishing Carving Machine for DIY Woodworking
| | |
| --- | --- |
| Ships From | Australia, Czech Republic, France, GERMANY, Poland, Russian Federation, SPAIN, United Kingdom, United States, Canada, Mexico |
Origin:

Mainland China

Certification:

CE

Name:

Table saw

Model:

T5

Power source:

Electricity

Power:

350W

Voltage:

220 V

Cutting depth:

26-29 mm (1.02-1.14 inch)

Cutting width:

100 mm (3.94 inch)

Speed:

0-10000 rpm

Push feet angle:

0-90 degree

Clamping range:

0.3-4 mm (0.01-0.16 inch)

Saw blade aperture:

16 / 20 mm (0.63 / 0.79 inch)

DIY supplies:

Woodworking

Package size:

36x25x18 cm (14x10x7 inch)

Gross weight:

6.06kg (13.36lbs)

Product Description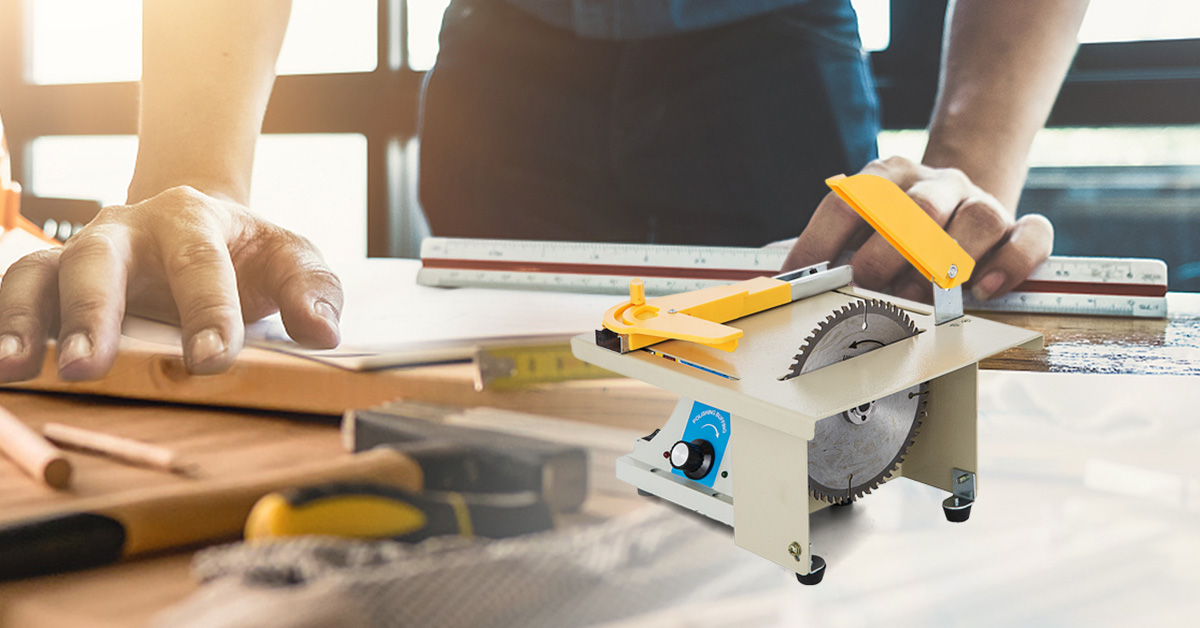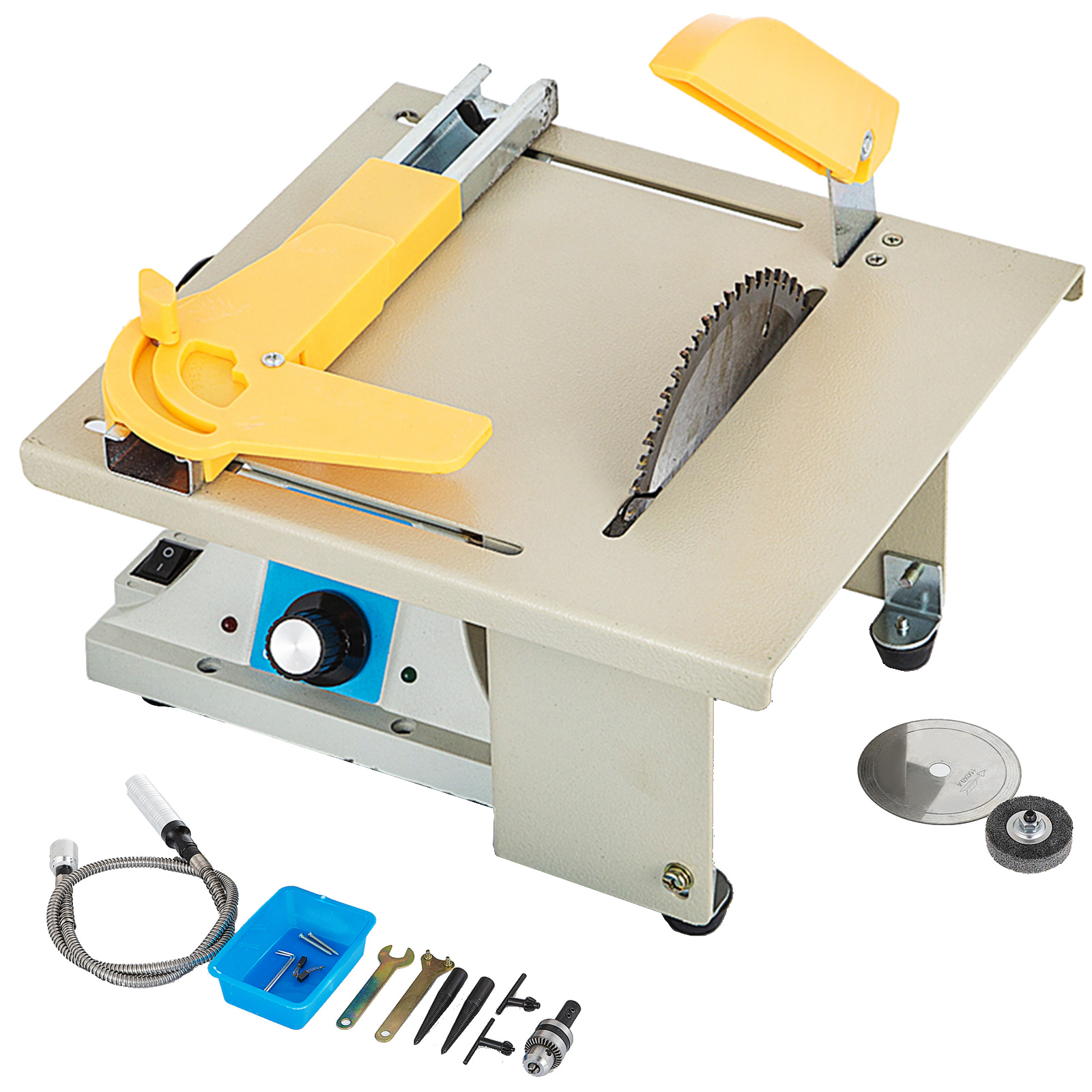 Portable Benchtop Table Saw
Portable benchtop plainer wood for woodworking cutting, polishing & carving machine. Motor maximum rotating speed up to 10000RPM, providing ultra strong cutting power. Ideal tool for the DIY at home without the worry of noise. Enjoy the fun of creating wood artwork!
Tips: If customs contacts you for the customs clearance, please email us, and we will refund your product clearance fee.
Premium Quality
Outstanding Performance
Precision Cutting
Considerate Design
Tough Equipment & Tools, Pay Less
VEVOR is a leading brand that specializes in equipment and tools. Along with thousands of motivated employees, VEVOR is dedicated to providing our customers with tough equipment & tools at incredibly low prices. Today, VEVOR's products are sold in more than 200 countries and regions with 10 million plus members worldwide.
Why Choose VEVOR?
Premium Tough Quality
Incredibly Low Prices
Fast & Secure Delivery
30-Day Free Returns
24/7 Attentive Service
Key Features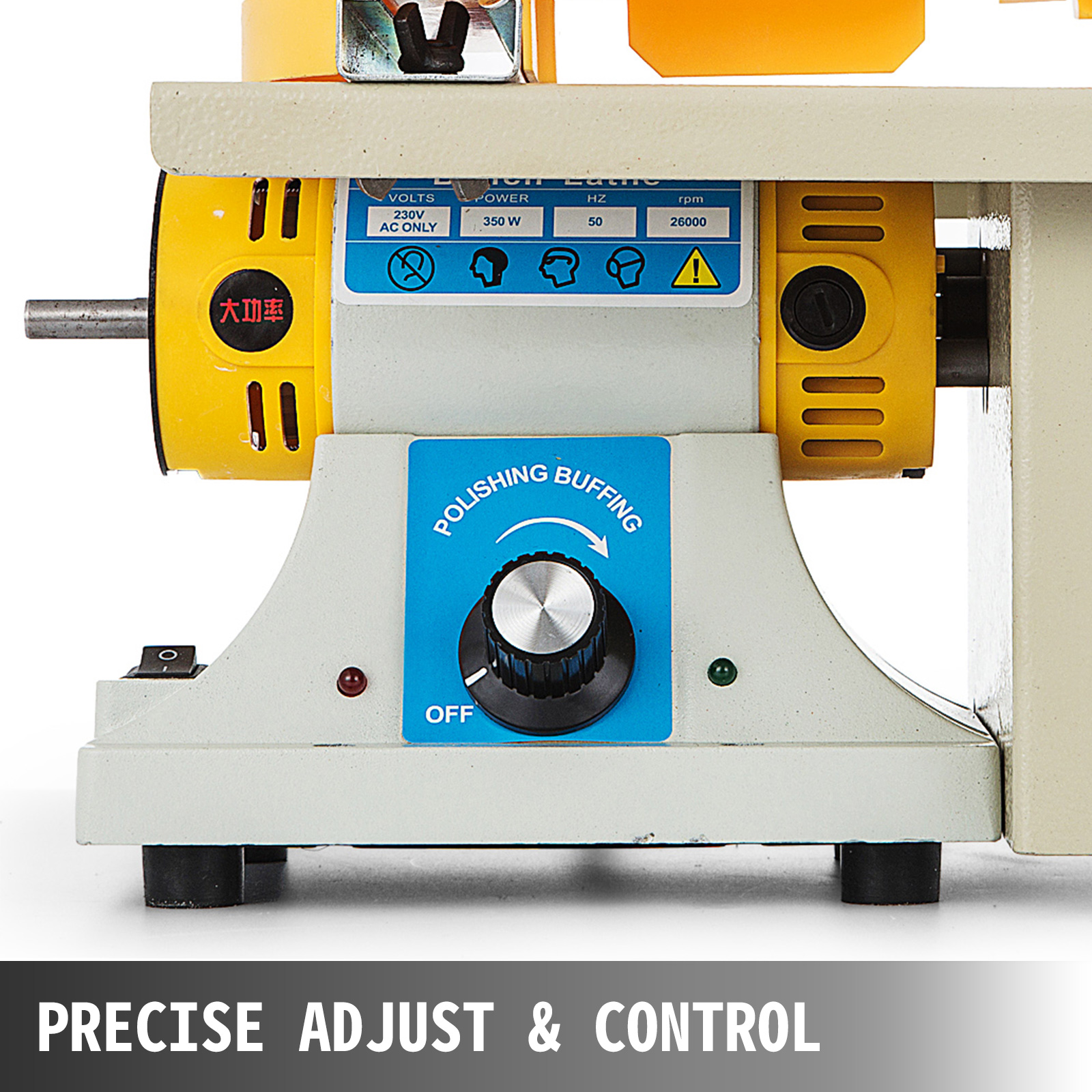 Precise Adjust & Control
Equipped with a 7 class power adapter enable you to adjust the rotating speed easily to meet different cutting speed; One button for convenient & fast operation.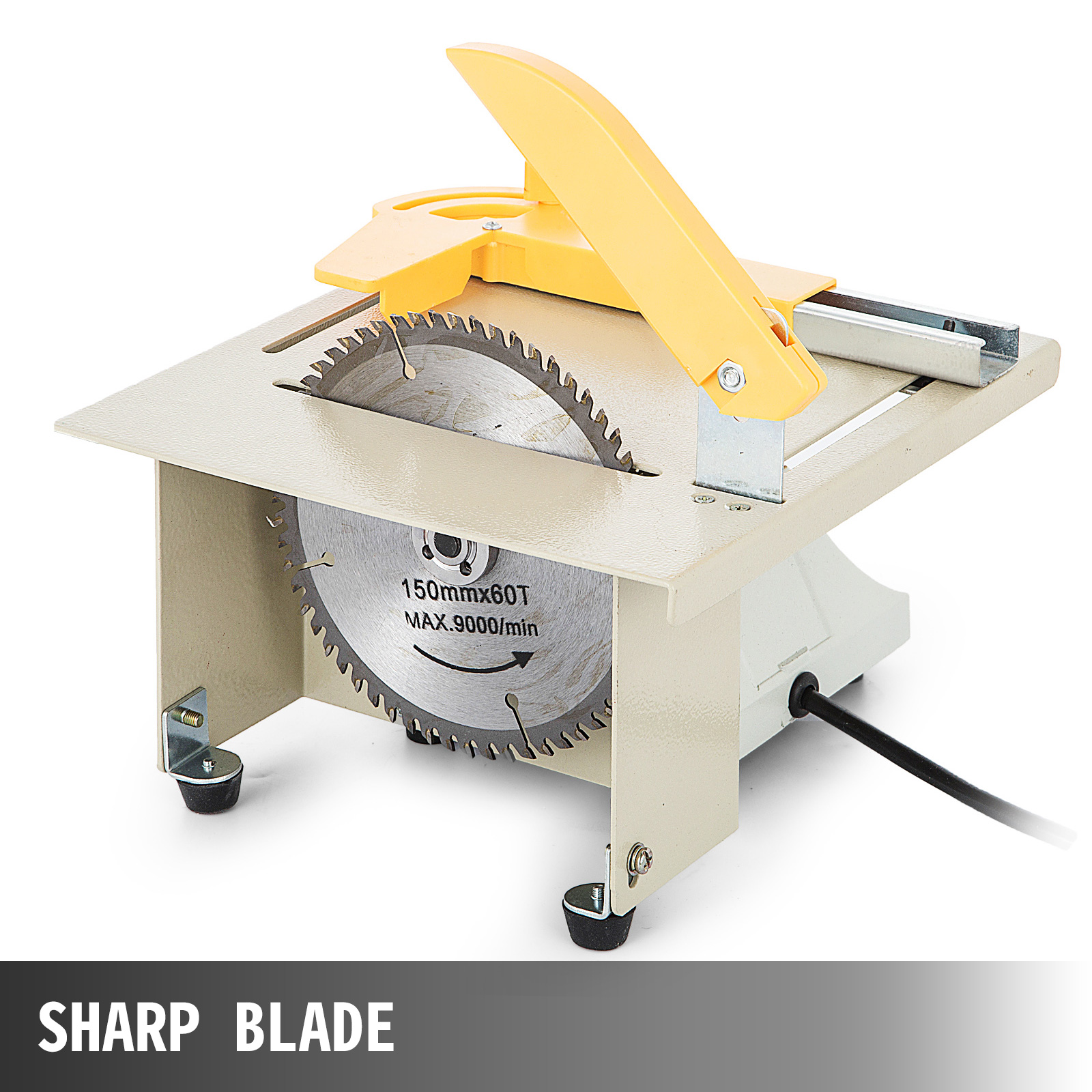 Sharp Blade
150 mm x 60T sharp blade with the maximum speed of 9000 / min, fast speed, cutting & grinding speed. The outer protective cover can effectively prevent accidental injuries caused by the blade.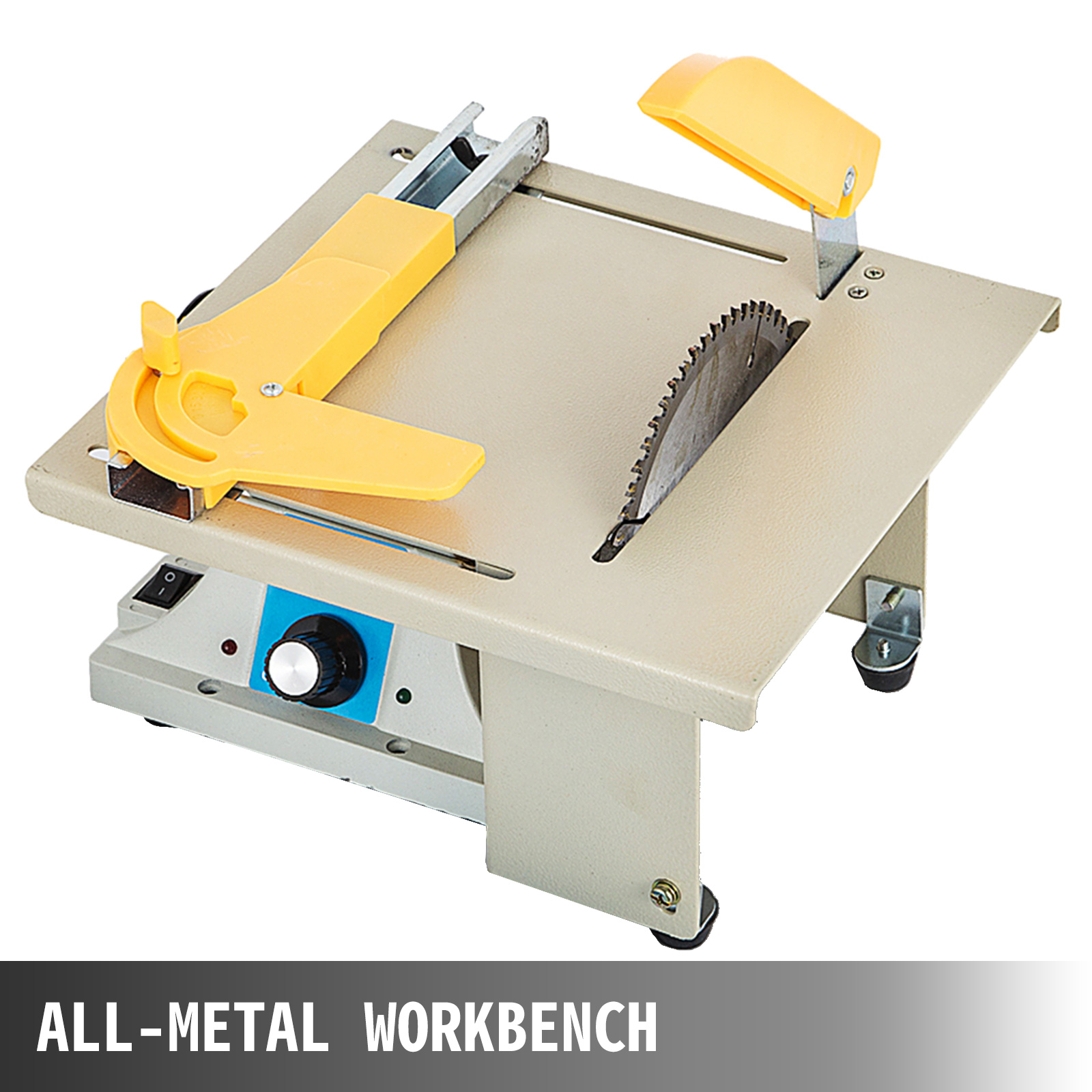 All-Metal Workbench
With a smooth and durable table surface, the wood jointer jointers can reduce damage to the material's surface.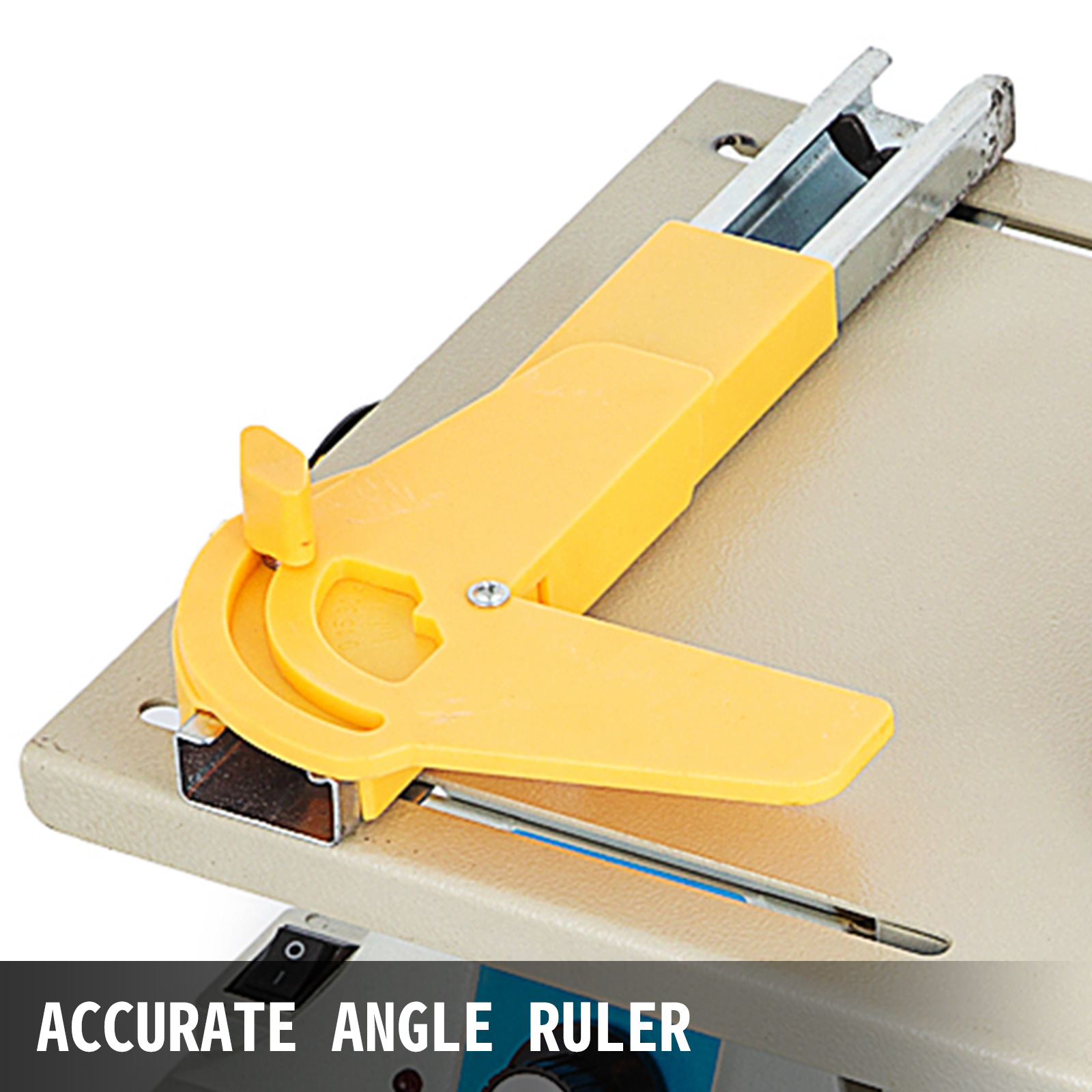 Accurate Angle Ruler
The ruler liner mounted on the cutting table jointer provides the double marking, allowing you to see the angle & length. Precise cutting & non-deformation features allow for flatness and high-quality cutting effect.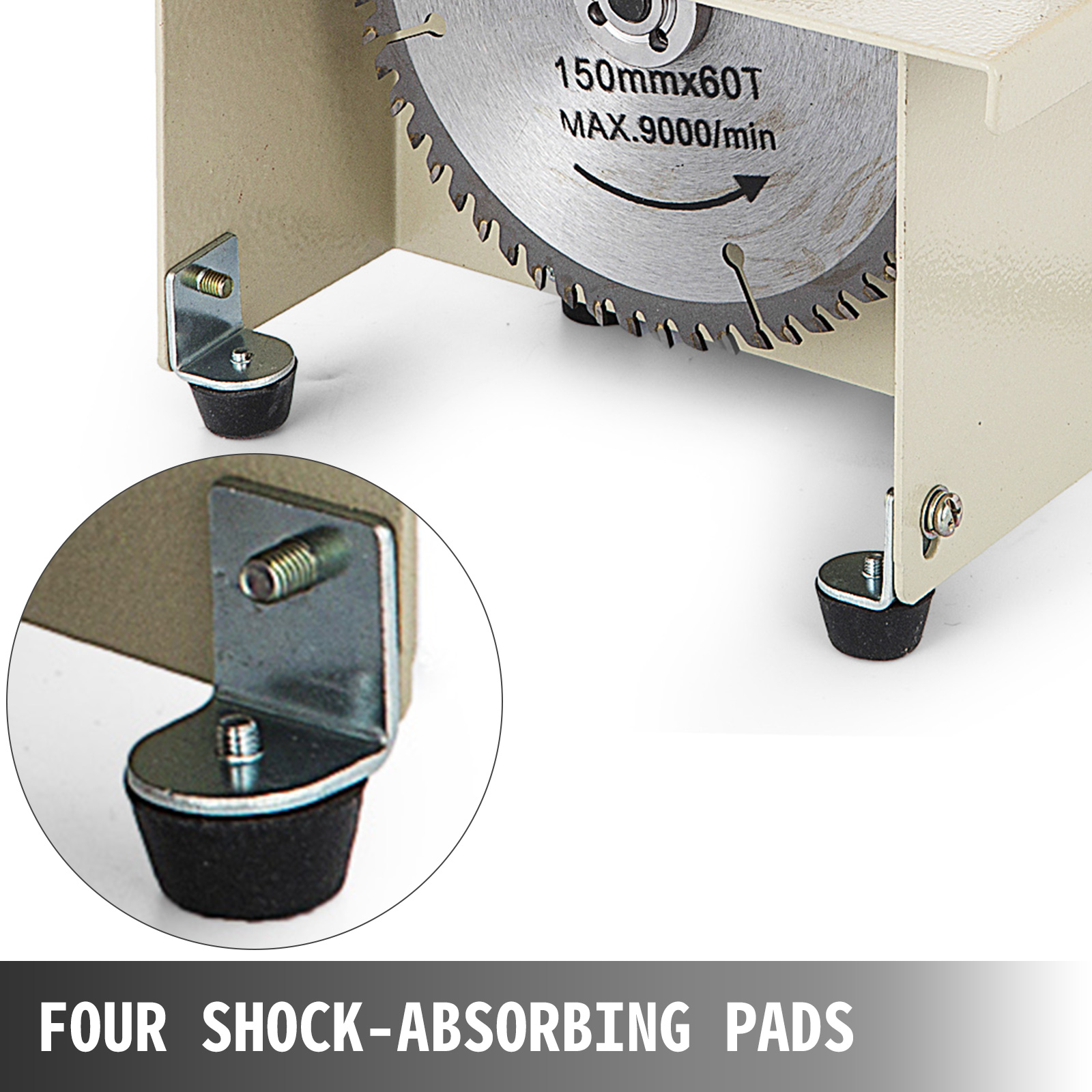 Four Shock-Absorbing Pads
Four rubber shock-absorbing pads, anti-skid & shock-absorbing, improves the stability of the jet joiner. It is equipped with anti-chip holes to remove chips quickly.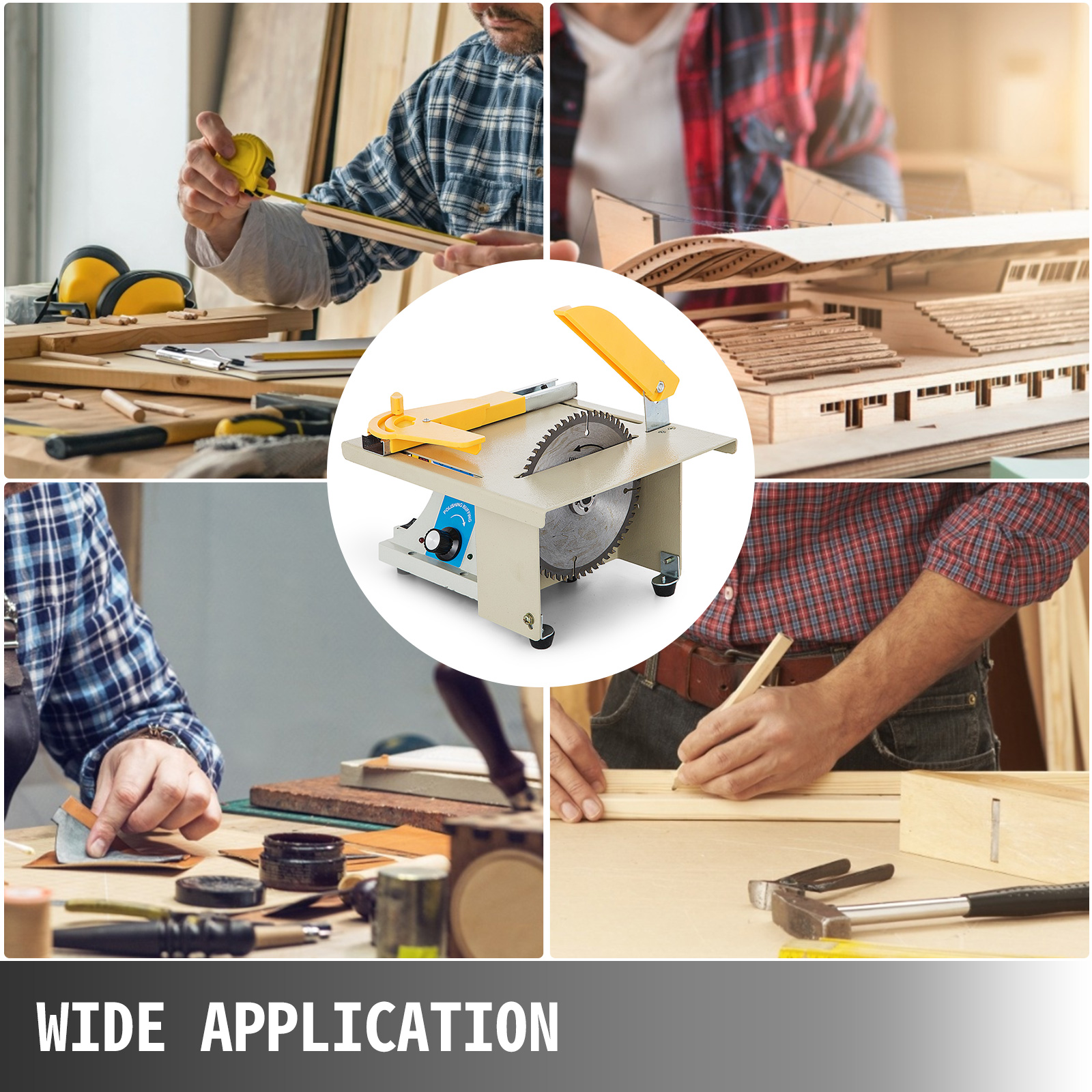 Wide Application
DIY multifunctional mini table saw is widely used in DIY wood products and woodworking decoration; Compact size easy to carry, perfect for DIY model makers.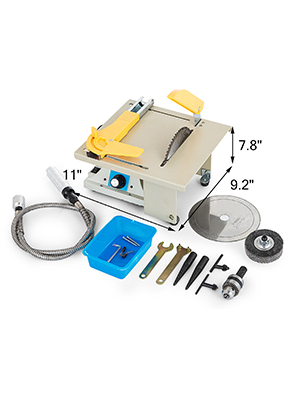 Specifications
Power: 350W
Voltage: 110V(US/CA/MX), 220V(EU/RU)
Model: T5
Name: Table saw
Speed: 0-10000 rpm
Push Feet Angle: 0-90°
Cutting Depth: 26-29 mm (1.02-1.14 inch)
Cutting Width: 100 mm (3.94 inch)
Power Source: Electricity
Clamping Range: 0.3-4 mm (0.01-0.16 inch)
Saw Blade Aperture: 16/20 mm (0.63 / 0.79 inch)
DIY Supplies: Woodworking
Product Size: 27.94 x 23.36 x 19.81 cm (11 x 9.2 x 7.8 inch)
Package Size: 36 x 25 x 18 cm (14 x 10 x 7 inch)
Gross weight: 6.06 kg (13.36lbs)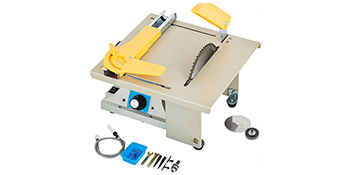 Package Content
1 x Woodworking Cutting Machine with Countertop
1 x Stainless Steel Flexible Shaft
1 x Fiber Wheel
1 x 1 mm Handle
1 x Woodworking Saw Blade
1 x Jade Saw Blade
1 x Set of Angle Ruler, Flap, Backing, Sink
1 x Pair of Brush
2 x Fixing Screws
1 x Set of Backing Screws
2 x Hexagon Wrench
1 x Manual
Features & Details
【PREMIUM QUALITY】- Aluminum alloy panel design matches with the all-metal workbench, solid & durable. Power: 350W, Model: T5, Cutting depth: 26-29 mm (1.02-1.14 inch), Cutting width: 100 mm (3.94 inch), Speed: 0-10000 rpm, Clamping range: 0.3-4 mm (0.01-0.16 inch), Push feet angle: 0-90°.
【OUTSTANDING PERFORMANCE】- The motor maximum rotating speed is up to 10000RPM, providing ultra-reliable cutting power but low noise. High-concentricity alloy saw blade & 29 mm; the maximum cutting thickness is easy and suitable to use at home.
【PRECISION CUTTING】- Equipped with the ruler & backer in the cutting table for easier & more precise cutting. The push-foot angle can be adjusted to 90 degrees, 45 degrees inside, 45 degrees outside.
【CONSIDERATE DESIGN】- Four rubber shock-absorbing pads to prevent slip and shock during work. DIY multifunctional mini bench joiner, compact, and easy to carry.
【WIDE APPLICATION】- Designed for planing old, weathered, rough, and worn wood, giving it an exceptionally smooth finish. The joint planer can be used for planning wood, bamboo, etc. Note: The height of this blade is fixed and cannot be adjusted, and it cannot cut too long objects.